News
Textile History, Celebrating 50 Years
CONFERENCE 2018
Textile History, Celebrating 50 Years. Hosted by the Pasold Research Fund at the Museum of London, 16 November 2018. Including panels exploring the evolution of research on textile, fashion and dress history and presentations from new researchers on future directions in textile history. More information to follow.
---
CALL FOR PAPERS
Colour in Cloth
Pasold Research Fund Conference, 10-11th April 2017
From initial design to production and dissemination, colour is central to the manufacture and use of cloth and clothing. This unique international conference will explore the various and multifarious relationships between colour and textiles, from dyeing and distribution, to chromatics and conservation. Through a combination of papers and workshops, it will demonstrate new and continuing research through historical, theoretical and practical investigation, drawing on interdisciplinary expertise that includes history, archaeology, conservation, sustainable futures, design and material culture.
The conference will be held over two days and in two locations: the University of Glasgow and the University of Edinburgh, Edinburgh College of Art. These two cities represent the diverse heritage of textile manufacture and design in Scotland, from the industrial scale Turkey red dyed and printed cottons, to the artisanal tapestry workshop of the Dovecot and design education. The conference will celebrate the differences of these two cities, as well as drawing on what unites them and the wider world through the history and current practice in colour and textiles. Day One will be held in Glasgow and will consist of papers that deal with the history and theory of colour and textile design, production and use, in addition to contemporary practice within the field. On Day Two we will hold complementary and exploratory hands-on workshops and site visits in Edinburgh, exploring the history, theory and study of textiles through practical and innovative means.
The organisers particularly welcome proposals that combine a paper and complementary workshop idea, but also encourage individual papers (20 mins) or workshop proposals (expected to last 1-1.5 hours) that examine textiles and colour in theory and practice. Working under the wider umbrella themes of the production, consumption and conservation of colour in cloth, suggested themes for paper and workshop proposals include, but are not limited to:
Scotland and the World
Science and Technology
Colour and Perception
Colour, Fashion, Trend
Colourless or the Absence of Colour
Learning with Colour and Textiles
Limited student bursaries will be available, more details to follow.
Titles and abstracts (200 words) for papers and/or workshops, should be sent to Sally Tuckett
Sally.Tuckett@glasgow.ac.uk
and Lindy Richardson
l.richardson@ed.ac.uk
by
Monday 15th January 2017.
Full registration details and bursary information will be available in January 2017.

---
Pasold Studies in Textile History
The next publication in the OUP/Pasold Studies in Textile History, due in late 2016, will be
Fashioning the Early Modern: Dress, Textiles and Innovation in Europe, 1500-1800
edited by Evelyn Welch.
The volume has contributions from John Styles, Giorgio Riello, Evelyn Welch and Juliet Claxton, Amanda Wunder, Paula Hohti, Corrine Thepaut-Cabassaet, Lesley Miller, Peter McNeil, Patrik Steorn, Maj Ringaard, Mikkel Pedersen and Peter Andreas Toft.
A range of subjects is covered including innovation at the court of Philip IV of Spain, artisan fashions in Italy, silk designers in Lyon and fashion cultures in Sweden.
---
Textile History - 2015 Essay Prize
We are pleased to announce that the winner of the 2015 essay prize is Dr Elizabeth Gernerd for 'Pulled tight and gleaming: The stocking's position within eighteenth-century masculinity' which appeared in May.
---
The NEW Resources Page
Our website now has a Resources page which will include digitised versions of many of the Pasold monograph publications that are now out of print.

Currently available are:
N.B. Harte, "The New Draperies in the Low Countries and England" (No. 10, 1997).

D.T. Jenkins and K.G. Ponting, "The British Wool Textile Industry", 1770-1914 (No. 3, 1986).

S. D. Chapman and S. Chassagne, "European Textile Printers in the Eighteenth Century: A Study of Peel and Oberkampf"

Follow this link to the Pasold Resources Page.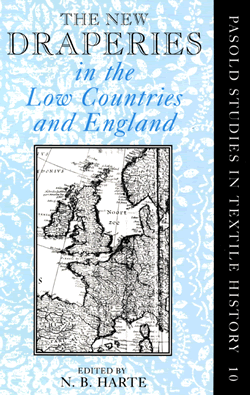 ---
The Pasold Research Fund - 50 Years
The Fund was founded in 1964. 2014 marks 50 years of the Fund's support for research and publication in textile history.
To mark the anniversary, the Fund organised an Anniversary Lecture and Reception on Thursday 29 May 2013. The event took place at the Museum of London, 150 London Wall, London EC2Y 5HN, starting from 5.30 to 9pm.

Professor Pat Hudson, Chair of the Pasold Research Fund, gave a lecture entitled:
'Not just a lot of flannel: the rise and decline of the Welsh woollen industry'

Woollen manufacture played a significant role in the Welsh economy from the middle ages to the mid twentieth century. The bulk of textiles were always produced for subsistence and the home market but distant trades were important in a series of waves of expansion and mechanisation. The lecture will relate the unusual story of the industry in Wales concentrating upon the period from the mid nineteenth century when success was delicately balanced upon the popularity of regionally distinctive fabrics and garments, particularly work-wear, that will be illustrated and discussed.
---